Monthly Archives:
December 2010
Did a fuel drain today on the M23, an Audi allroad had been fill'd with 20 pounds of petrol (it was a diesel) and driven for 30 miles, the car had died and I got call'd, I did the standard drain & flush and went to re-start it, it wasent quite as easy as it should have been, and given the distance it had been driven I suspected major damage, I got some over the phone advice from an AUDI specialist – (turnd out that  driven on wrong fuel audi allroad V6 TDI has a peculiarity) well  I'm not too proud to admit that I don't know everything there is to know about every car ever made, – and after some specialist advice on an unusual case – the car was up and running again with no further damage, and the customer was on his way, it's worth having a few experts on hand at the end of the phone, and since its normally me dishing out the technical advice – it was a nice change (I made that all up, the truth is I was kicking myself – I make about 2 calls per year to other mechanics and I really could have done without that one because he will never let me forget it – )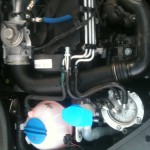 On Saturday I did the "youngest" car I have ever done, wrong fuel in  VW Golf 1.9TDI
The client was a very good natured chap, on a family outing travelling in convoy with another car, he had put 20 pounds worth of unleaded into a car that he picked up from the dealership 2 days beforehand, the mileage was 82!. it was a fairly simple job as it had never been driven, but unfortunately a passing mechanic had attempted to do a  fuel drain thru the filter (this draws contaminated fuel into the plumbing),  thus the car needed drained from the tank and flushed thru the filter to be on the safe side,  an important thing about doing fuel drains on new cars is that there are many different fuel hose connections ,on a  golf (and most audis) , they look like this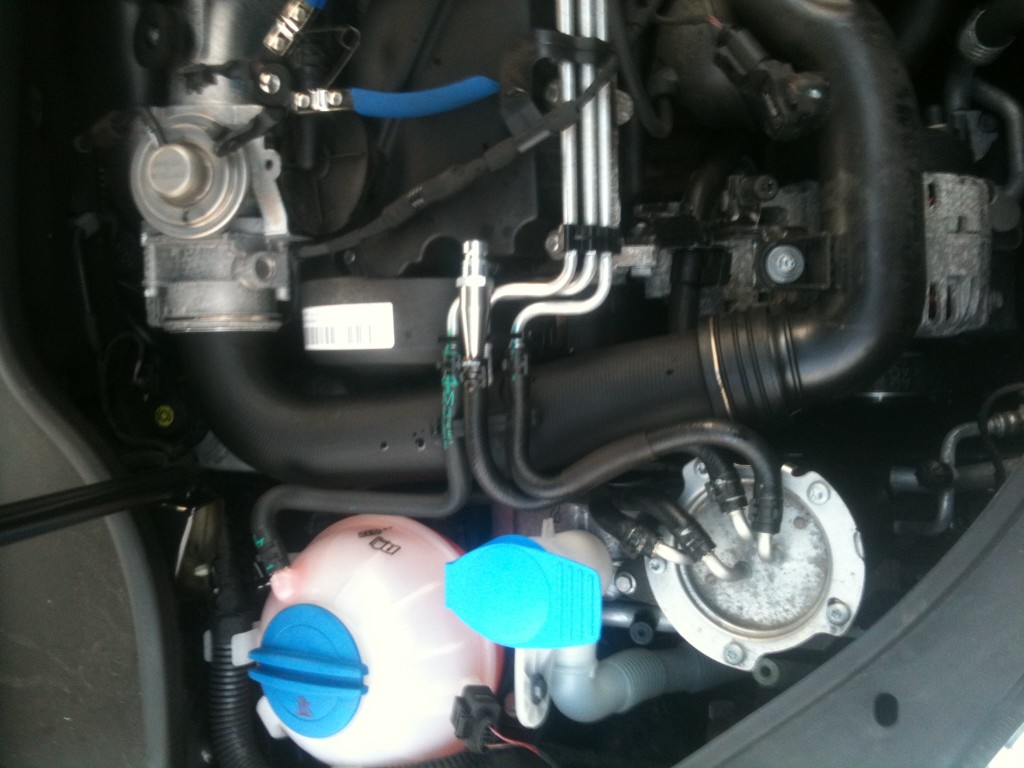 If I knew how to photoshop I could explain this all very simply, so bear with me,
The fuel hoses are black, they all connect into the filter on the bottom right (note 4 hoses) the clips that hold the hoses are steel, and are coated with a very thin layer of black paint, these clips are reuseable, but if not very carefully unclipped and clipped back together they get scratched easily , which is no problem in itself but it shows that they have been fiddled with, what had happend in this case is that becuase the passing mechanic was not familiar with this type of car,  tried all the hoses – hastilly unclipping & clipping back up, the end result was a brand new car – which to the expert eye  looked like it it had major work to the fuel system, If an issue arose with the warranty on something completely different  then this is the sort of thing that gives an awkward main dealer a leg to stand on.
The problem with fuel drains is you don't choose when or where they happen, it's often miles from home and your regular mechanic, or at a very inconvenient time, if you are going to to attempt to drain a car here are some pointers.
1) Never try and draw fuel from the filter or hoses if a car has NOT been driven
2)  If a car has been towed, consider it driven – when you tow a car the key is in the ignition to stop the steering locking, this powers the fuel pump which circulates the contaminated fuel – thus contaminated plumbing
3) if you car is under manufacturers warranty – I would strongly recommend getting a company that specialises in fuel drains to do the job, the a typical garage will maybe deal with 1 misfuel a week, a mobile fuel draining mechanic will do upwards of 20 fuel drains a week
4) syphoning petrol on forecourts is a tad risky, the key point is EXPOSURE TO AIR, i,e putting a hose onto a hose and pumping out a car is ok, becuase the fuel is not exposed to air, it simply goes from one tank into another via a sealed connection, syphoning without the right equipment results in buckets, cans etc.. being filld up with volatile fuel that is exposed to air – and possible sources of ignition, any petrol station manager doing his job properly will not allow it on the premises – and neither they should.
5)  Putting the wrong fuel in you car and having it professionally dealt with will not invalidate the warranty of the car,
Thats the phone, ive got a misfuel at BP Gatwick North terminal, cherio!
what to do in a misfuel.
1) if you have not started your car after filling with the wrong fuel; DO NOT START THE CAR
inform the petrol station that you have misfuelld, or put petrol in your diesel, they will put a cone behind your car to stop drivers queing behind you, or they will help to push your car (engine off) away from the pumps.
They may have business cards behind the counter for fuel draining companys, the going rate is between 150 and 200 pounds for a fuel drain, call around and select whichever one meets your budget and time scale.if the garage has no contacts for you, try googling wrong fuel, there are many companies advertising this service and the whole of the uk is coverd
Do not call the main dealer, you will often be met with veild threats of warranty invalidation and insistance that the car be brought in for major repairs, if your car has not been started it is certain that no damage has been done and all you need is a fuel drain. once drained down and re-filld with the correct fuel you will have no further trouble
2) if you have started the car and suffer a breakdown as a result
Firstly be safe, get the car off the road and into a safe location, if you are unsure if you have misfuelld, either check the receipt or open the filler cap and have a little sniff – petrol and diesel have different smells,
do not try and start the car by repeatedley turning the engine, this will simply flatten the battery and compound the problem
all you need to do is the same as in 1, but apart from draining down the tank, they will also need to drain "south" of the filter, this means all fuel up to the point of entering the engine will need drained, then 10 litres of clean fuel will be added to the tank and this will be purged thru the lines & filter and up to the engine, this will force out the contaminated fuel and leave clean fuel in the filters and hoses. the car will take some time to start (sometimes up to 150 seconds of cranking – never cranking for more than 30 seconds at a time without a break of 2 mins to let the starter motor cool off). the cost for this should be between 160 to 220 pounds.
If you are in london or the south east and you have put the wrong fuel in your car, you can contact us at http://www.fuelfixer.co.uk for a fuel drain, or if you need help or advice on a DIY fuel drain I would be happy to advise.
All the best.
The Fuelman